About FMC Science
FMC Science is the research arm of Family Medicine Clinic, the largest independent private practice in Lampasas and Coryell Counties, Texas, with a service area of over 80,000 residents.
FMC has served Lampasas, Copperas Cove and the Central Texas area for 80 years and is highly regarded in the community. FMC has 12 board-certified family practice providers who care for 25,000 patients each year.
Meet The FMC Science Team
James E Cain, MD, FAAFP, CEO, and PI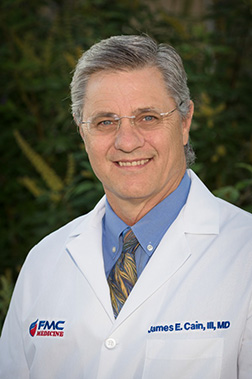 James Cain, MD, is a board-certified family physician who has practiced in Lampasas and Copperas Cove for the past 15 years. He serves as principal investigator at FMC Science.
Dr. Cain completed his CITI-GCP, IATA, NIH Protection of Human Subjects, OSHA, and HIPAA training in the fall of 2014. Dr. Cain has special interests in studies relating to diabetes, arthritis, dermatology, psychiatry, and asthma/COPD.
He graduated from the prestigious UT Memorial Hermann Southwest Family Medicine Fellowship and Baylor College of Medicine.
Dr. Cain has had the distinction of working with two icons of American medicine, world-renowned heart surgeon Denton Cooley (Dr. Cain did data entry for many of Dr. Cooley's investigational devices and drug studies), and TV celebrity Dr. "Red" Duke.
Dr. Cain has served as chief of staff of Rollins Brook Community Hospital in Lampasas and is a member of the Executive and Credentialing Committee of Metroplex Hospital in Killeen.
He is best known as the beguiling master of ceremonies of the Little Miss Spring Ho contest, one of the highlights of the nationally prominent Spring Ho Festival held in Lampasas every summer.
Lauren Lockhart, BS, Certified Clinical Research Coordinator (CCRC)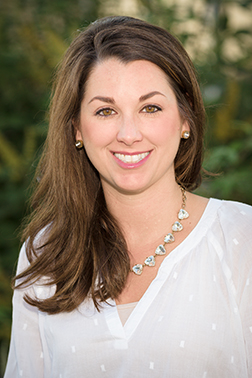 Lauren Lockhart joined FMC Science in 2014 just after our research entity's inception. In the fall of 2014, Ms. Lockhart earned her Certified Clinical Research Coordinator (CCRC) certification. She also completed her CITI-GCP, IATA, NIH Protection of Human Subjects, OSHA, and HIPAA training and developed FMC Science's standard operating policies.
Lauren brings a wealth of clinical research experience to FMC Science. She has seven years' previous experience as a CRC with U.S. Oncology Research (USOR), one of the nation's largest cancer research centers.
At USOR, Lauren served as clinical research supervisor for the Austin market and directed nine clinical research coordinators. She also personally managed more than 85 clinical trials (phases 1-4) in diverse drug studies relating to breast, GI, genitourinary, lung, lymphatic, hematopoietic, gynecologic, and solid tumor cancers.
However, Lauren is probably most proud that she is an Aggie – a graduate of Texas A&M University in College Station – who awarded her a BS Degree in Biomedical Science in 2007.
Amanda Allen, FNP, SI, Director of Clinical Services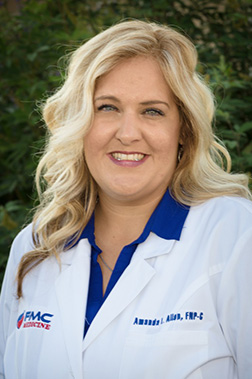 Amanda Allen grew up at FMC Science. She started out with FMC as a high school intern in 1996 and progressed to medical assistant/lab & x-ray tech, nursing supervisor, office manager, director of operations, and family nurse practitioner.
During her employment with FMC, she earned her BSN and MSN degrees. As a sub-investigator with FMC Science, Ms. Allen has completed her CITI-GCP, IATA, NIH Protection of Human Subjects, OSHA, and HIPAA training in the fall of 2014.
Her primary clinical research interests are OB-GYN, pediatrics, geriatrics, orthopedics, and rheumatology.
Ms. Allen has a very active clinical practice and cares for more than 30 patients of all ages each day in the office. She also rounds at the three Nursing and Rehabilitation Centers in Lampasas.
Ms. Allen chairs the School Health Advisory Committee of the Lampasas Independent School District and coaches area youth softball and soccer teams.
If you want to bring a smile to her face, ask her about her daughters Meredith and Mattie.
Johnna Davis, FNP, SI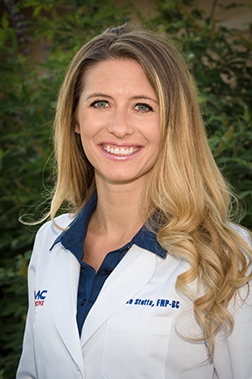 Johnna Stotts Davis, a native of Lampasas, is a board-certified Family Nurse Practitioner. She joined FMC Science in 2015 as a sub-investigator.
As a sub-investigator, her primary clinical research interests include OB-GYN, dermatology, and endocrine studies, including diabetes, thyroid, and hormones. She has completed her CITI-GCP, IATA, NIH Protection of Human Subjects, OSHA, and HIPAA training and practices exclusively in the FMC Science department.
Mrs. Davis earned her Bachelors of Science in Nursing from The University of Mary Hardin Baylor. She earned her Masters of Science in Nursing-Family Nurse Practitioner from the University of Texas El-Paso. This graduate program provided additional education in outcome-based awareness of the global healthcare environment and she was able to spend a large amount of her clinical training in the underserved clinics of the Texas/Mexico border.
Mrs. Davis has had the opportunity to serve in medical missions in Mexico, Honduras, and Africa.
Mrs. Davis comes from a long line of Texas ranchers, and she continues this way of life on her family ranch as well as with her husband raising grass-fed beef.
Cathy  Collins,  MSN,  Senior Research  Counsel
Cathy Collins is a seasoned clinical trial professional with more than 23 years of experience at a senior leadership level.
She is CEO of Clinical Consulting Solutions, which she founded in 2014. Clinical Consulting Solutions provides consulting services to research centers, CROs, and Pharma.
Cathy has managed more than 100 research centers in her career, including the development of 13 new research clinics. Cathy has also served as vice president of operations for two national site management organizations - Clinical Studies LTD and Protocare Trials.
She was the co-founder and served as CEO of Meridien Research, a five-center wholly owned and operated, dedicated site research organization in Tampa Bay, Florida, that conducted hundreds of Phase 1-¬4 research studies during her tenure.
She also co-¬founded and served as CEO for the Insearch Group, which provides business development services to over 300 physicians/research centers across the United States. Cathy sold Meridien and Insearch to a private equity firm in 2012 and remained as CEO through February 2014.